Sailing on Shtandart gives you a unique opportunity to personally experience the life of an 18th century sailor. At the same time, being a replica of the 18th century frigate, Shtandart offers modern levels of comfort and safety.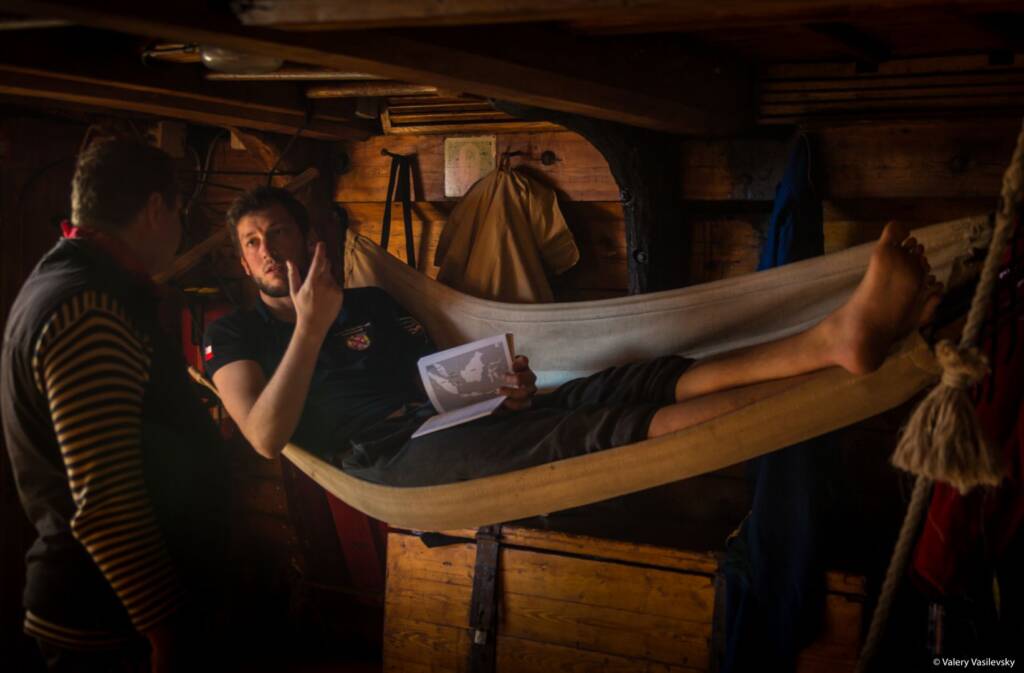 At sea
Upon arrival on the ship each person is assigned to a watch. There are three watches. They are named after the frigate's masts: Fore mast watch, Main mast watch and Mizzen mast watch. Watch changes happen every four hours. During watch time you will get an opportunity to act as a lookout, a helmsman, you will learn how to work with the sails and develop various maritime skills under the supervision of our experienced instructors.
After four hours of your watch you do four hours on the stand by watch, taking part in the ship's maintenance work and, if necessary, helping the watch keepers. Four hours after this is your rest time.
| | | | |
| --- | --- | --- | --- |
| | Fore watch | Main watch | Mizzen watch |
| 00:00 – 04:00 | watch | sleep | stand by |
| 04:00 – 08:00 | stand by | watch | sleep |
| 08:00 – 12:00 | sleep | stand by | watch |
| 12:00 – 16:00 | watch | sleep | stand by |
| 16:00 – 20:00 | stand by | watch | sleep |
| 20:00 – 24:00 | sleep | stand by | watch |
In a port Shtandart crew members welcome onboard many guests and visitors. The Watchman on the gangway answers multiple questions and has a wonderful opportunity to meet new people and practice new language skills.
We also carry out maintenance work which would be difficult to do during sailing. All off duty crew members can have a nice break and enjoy interesting sightseeing. There are usually festivals, celebrations, parties or other activities to enjoy during our port visits.
Cleaning and cooking
At sea and in port those on kitchen duty help prepare the meals under the watchful eye of the quartermaster. Even if you can't cook, there will always be something for you to do, and by the end of the trip you'll be sure to leave with a new set of skills.
Under typical sailing conditions, the crew receives four meals a day. The standard menu consists of familiar home-cooked dishes, including porridge, soups, vegetable salads, side dishes of cereals and pasta, and main courses featuring fish, meat, and poultry. We can accommodate specific dietary preferences or restrictions such as vegetarian diets or allergy considerations. Sailors with special dietary requirements are encouraged to actively participate in the preparation of their meals.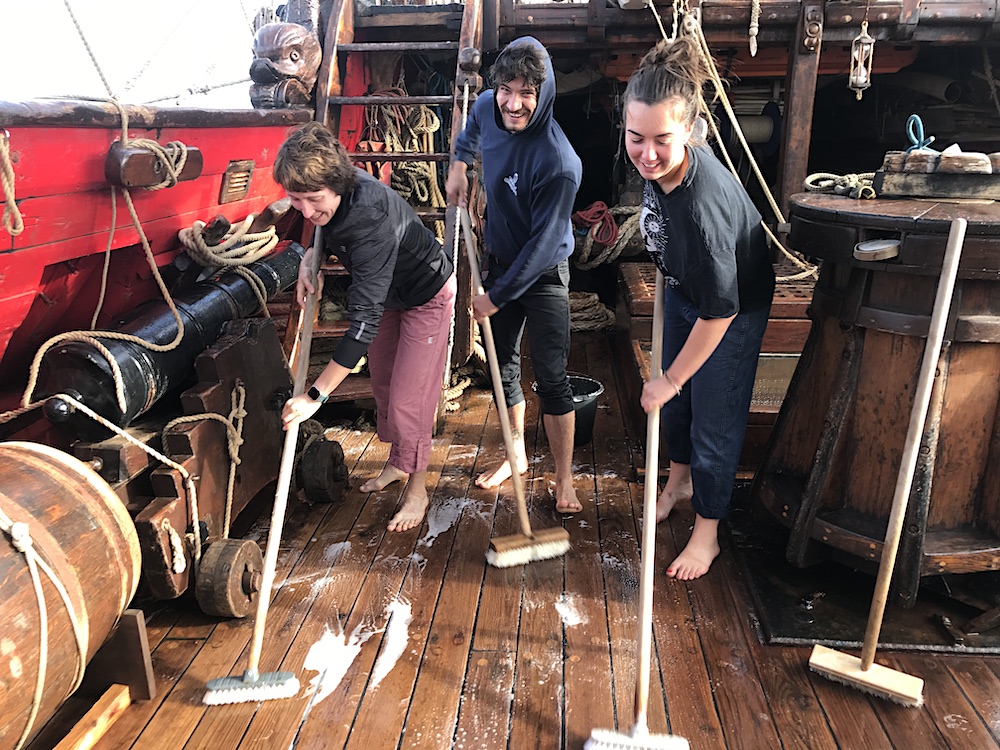 Every morning after the flag rising ceremony the crew cleans the decks and the living quarters.
The first Russian Maritime Code of 1720 paid a lot of attention to the ship-husbandry requirements and procedures.
This is what it said: "Ships are to be cleaned and scrubbed on all days. Windows between all decks are to be open as often as the time will allow. The insides as well as the outside will be swept and washed every morning and evening."
Shtandart follows this tradition religiously!
And deck-cleaning in the company of good friends very quickly becomes a fun thing to do!
Time-table onboard Shtandart:
| | |
| --- | --- |
| 07.30 | Breakfast |
| 08.00 | Flag raising ceremony |
| 12.00 | Lunch |
| 16.00 | Afternoon snack |
| 20.00 | Dinner |
| 24.00 | Lights out, beginning of night watch |
Want to experience life aboard the Shtandart?